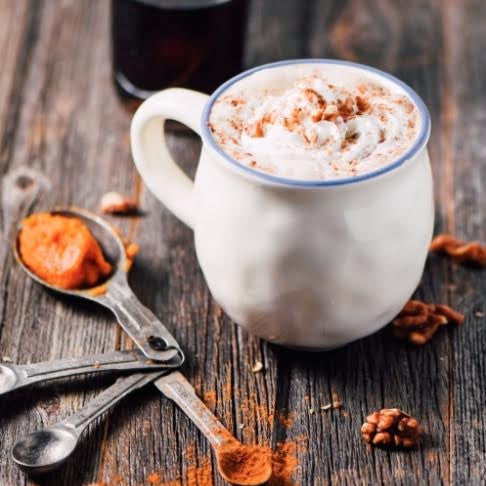 Fall has arrived! and that means people will be flocking to their nearest cafe for the beloved pumpkin spice latte. But, you brew with BLACK FUEL TRADING CO. specialty coffee blends, meaning you can have the best PSL in town…if you know how to make one.
What you need:
One cup of your choice of milk, two tablespoons canned pumpkin puree, ¼ teaspoon of vanilla extract, one tablespoon of sugar, ¼ teaspoon of pumpkin pie spice, ¼ cup of brewed BLACK FUEL TRADING CO. specialty coffee or espresso and whipped cream.
What you do:
Combine milk, pumpkin puree, sugar, vanilla and pumpkin pie spice in a bowl and mix together. Cover the bowl but make sure there are holes for ventilation. Microwave for one and a half minutes or until the mixture is hot. You will want to whisk the milk mixture vigorously until you create foam. Put your brewed BLACK FUEL TRADING CO. direct trade coffee or espresso into a mug and then add the foam mixture on top. If you want to indulge, add some whipped cream and a dash of pumpkin pie spice on top. Viola! The perfect pumpkin spiced latte, basic free!
You can purchase all of the BLACK FUEL TRADING CO. direct trade speciality coffee blends for your fall latte by visiting our website. All of our blends come with whole bean coffee to ensure freshness. Be sure to stay connected with us on Pinterest, Facebook, Twitter and Instagram and drink BLACK FUEL: THE ESSENTIALS FOR LIVING.